Trout Lilies, in the Garden and on the Trail
07 May 2015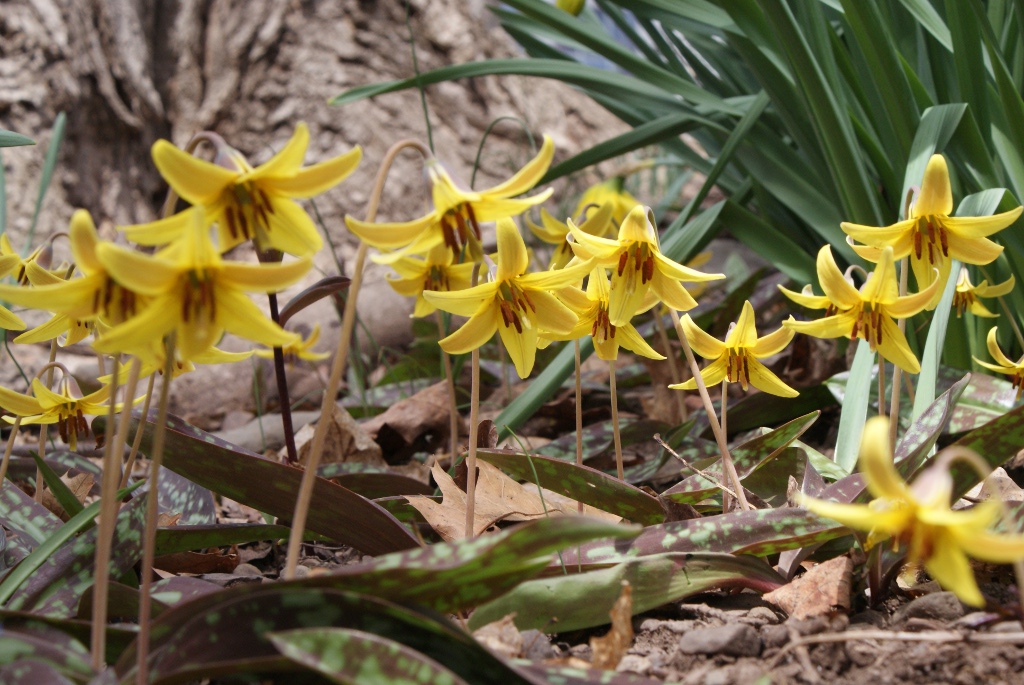 Trout Lilies in our Garden
This weekend we head up Friday Mountain to look for trout lilies. The ones in our garden bloomed about two weeks ago, which is as reliable an indicator as we can find, although who knows with this two-week transition from snow showers to 80 degree heat?
I've given up calling them "Dog's Tooth Violets," since the term derives from the European E. dens-canis. (referring to the leaf shape) and is not descriptive of the American species at all. The name "Trout Lilies" derives from the species blooming in April near trout season - or maybe the name comes from the way the plants' leaves look like trout or from the fact that they grow near streams. Other names include adder's tongue, which may refer to the plant's leaves or stamens. John Burroughs preferred the name "Fawn lily," describing its markings as follows: "Its two leaves stand up like a fawn's ears, and this feature with its recurved petals gives it an alert, wide-awake look." My favorite name, however, remains "Yellow-bastard-lily."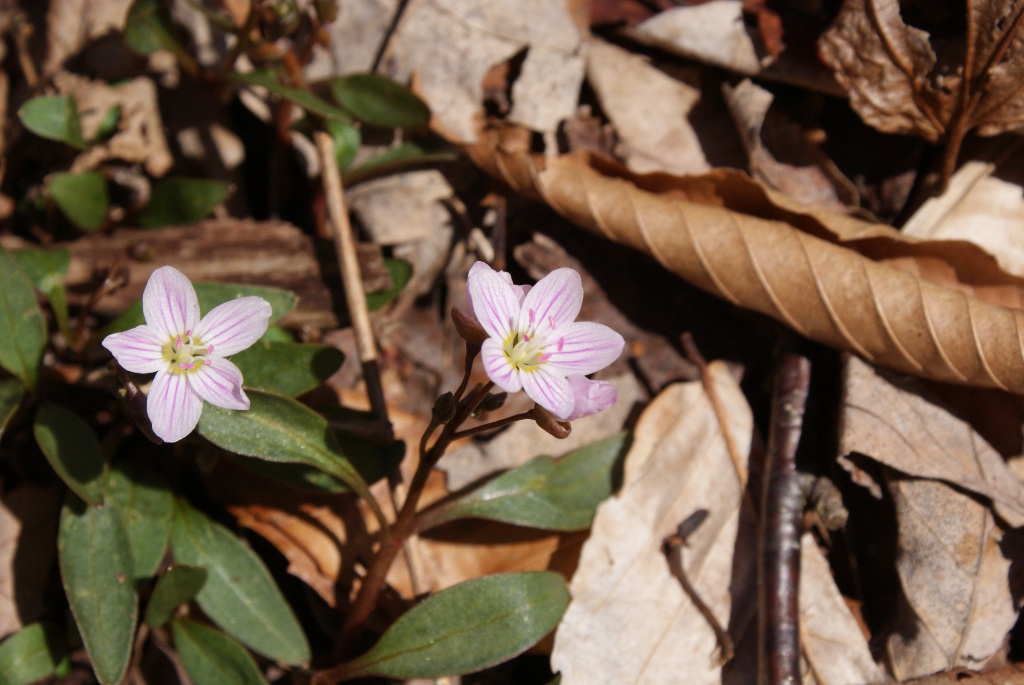 Hepatica (maybe)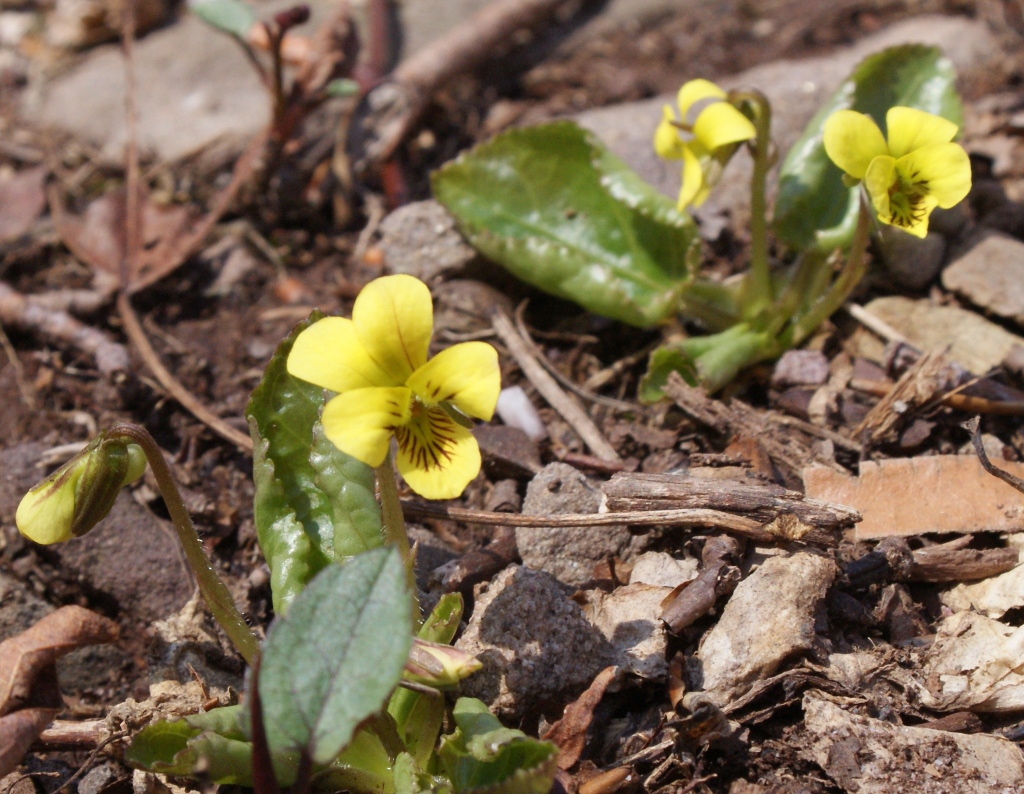 Yellow Violets
Friday is one hard hike - we reconned it three weeks ago, and I think I'm still stiff. Then it was so cold we saw nothing but a few violets and what we think are sharp-leaved hepatica at the lowest elevations.
But if you time it right, the hike is well worth the effort: you can see literally yards of wild trout lilies in bloom, along with red trillium and other wildflowers.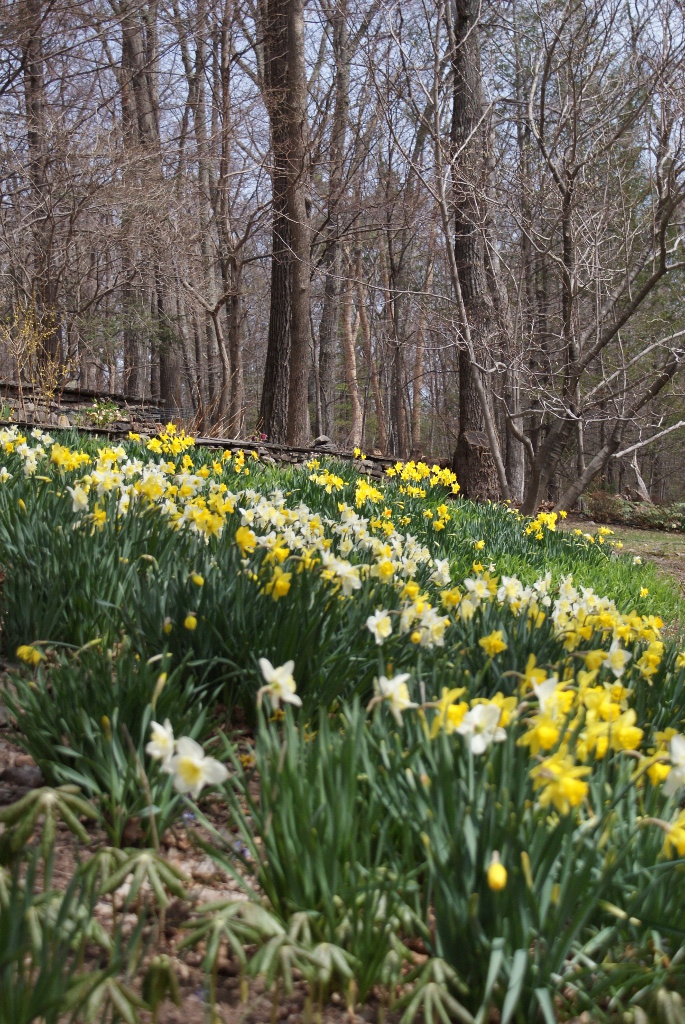 Daffodils, yes...
In the meantime, we have daffodils. According to Roy Vickery in A Dictionary of Plant Lore, daffodils had an association with religious foundations. At Frittlestoke, the flowers were called Gregories, after the neighboring monastery of Canons of St. Gregory. But daffodils prove almost as resistant to naming as trout lilies. According to legend, the religious foundation St. Urian's Copse in Wolverton is marked by daffodils blooming on only one side of the road. Or is it, according to some, Centurion's Copse? Or, if you believe the Reverend E Boucher James in his Letters Relating to the Isle of Wight (1889), the name refers to Saint Urith, an Anglo-Saxon saint from seventh century Devon. Or maybe the saint is actually Saint Turien from Evreux in Normandy, who lived approximately 650-750 AD. Another theory concerns a Saint Laurian, who was martyred in Bourges in 544AD. A third version of the legend derives from Wolverton's church, famous for its Holy Well whose water was so remarkably fresh it did not go off, even on long sea voyages - at least until a mysterious stranger in a cowl appeared to drive the town to the inevitable conclusion engraved on the stone cross near the well:
While the water flows pure and free
Wolverton shall happy be.
The net be heavy in the sea
And wheaten seed shall yield plenty.
When stains of blood burns the well
Then Culver's Ness shall ring its knell.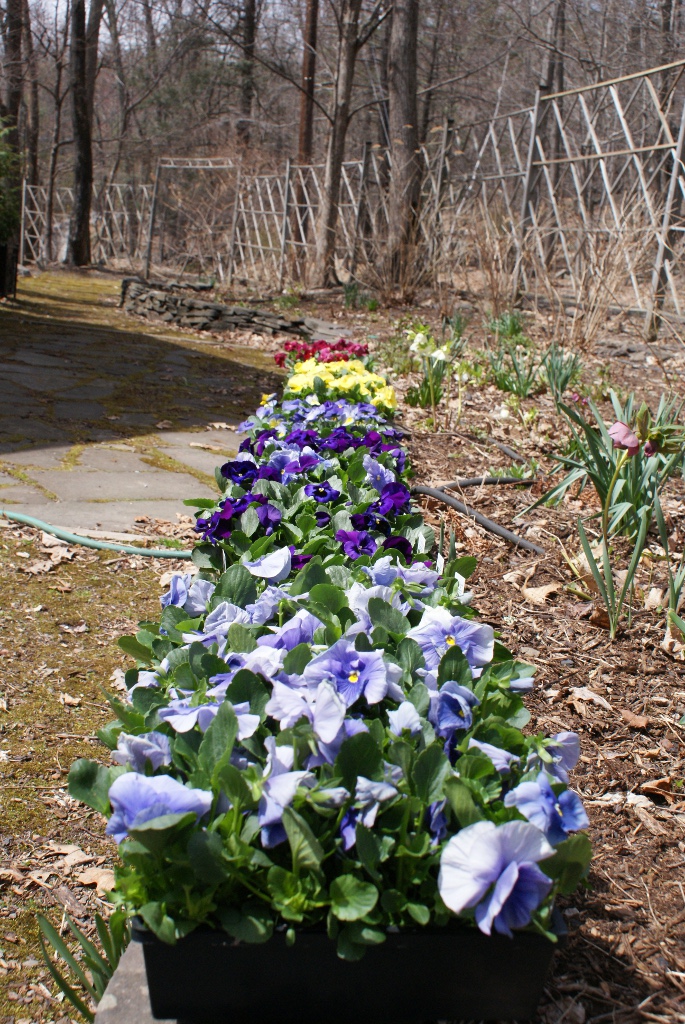 Pansies ready to deploy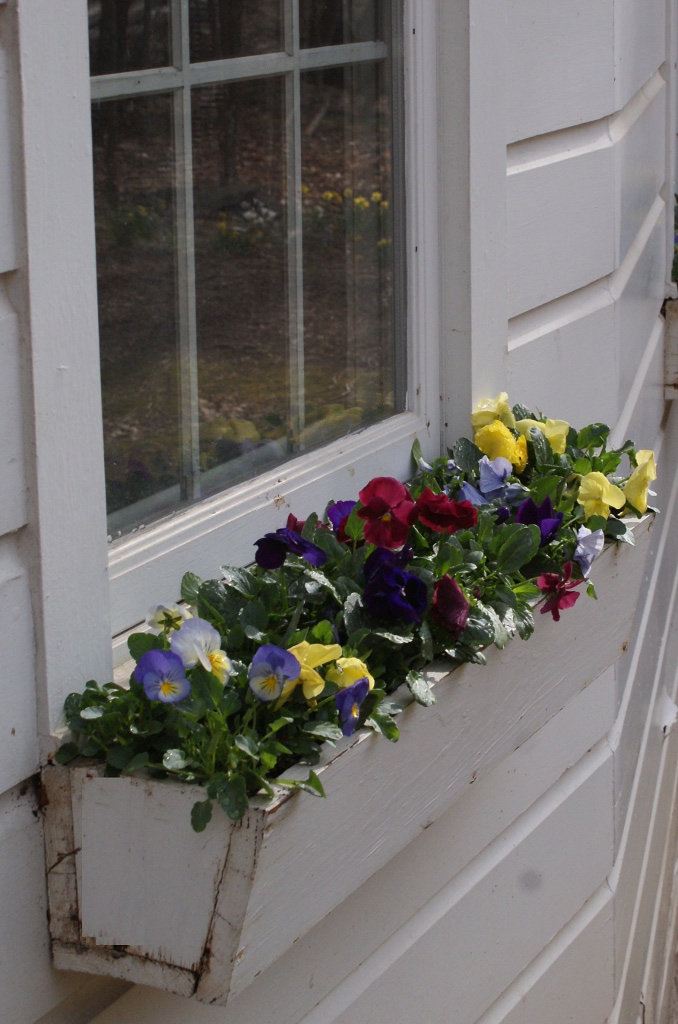 Pansies deployed
So much for daffodils. What about the pansies? When it comes to spring, who doesn't love them? Not us. Deploying them to fill our window boxes is our first great rite of spring. According to Laura C. Martin, pansies were a cure for hiccups, and Roman soldiers grew it near camps for foot sores and corns. She also follows New Ewart's The Lore of Flowers by claiming that pansies were also used for divination by King Arthur's knights. However, as best I can tell, Ewart's evidence is taken from an 1855 confection by Thomas Miller, entitled The Poetical Language of Flowers, or the Pilgrimage of Love, which in fact claims that:
It was in those days age of happy dreams, when armed knights rode forth in quest of adventures, combatted with mighty giants and destroyed enchanted castles by one blast of their loud bugle horn, battled with dragons and met with beautiful and disconsolate maidens at the foot of almost every grey and weather beaten cross wherever three lonely roads met together, when the cave of Merlin was visited by all who had courage enough to look into the future and King Arthur's Round Table was never without a gallant guest - it was then that they begun to seek for signs and spells and charms and tokens and all the awful mysteries of divination in the secret virtues of the flowers. But most of all to the petals of the Pansy did they turn their thoughts.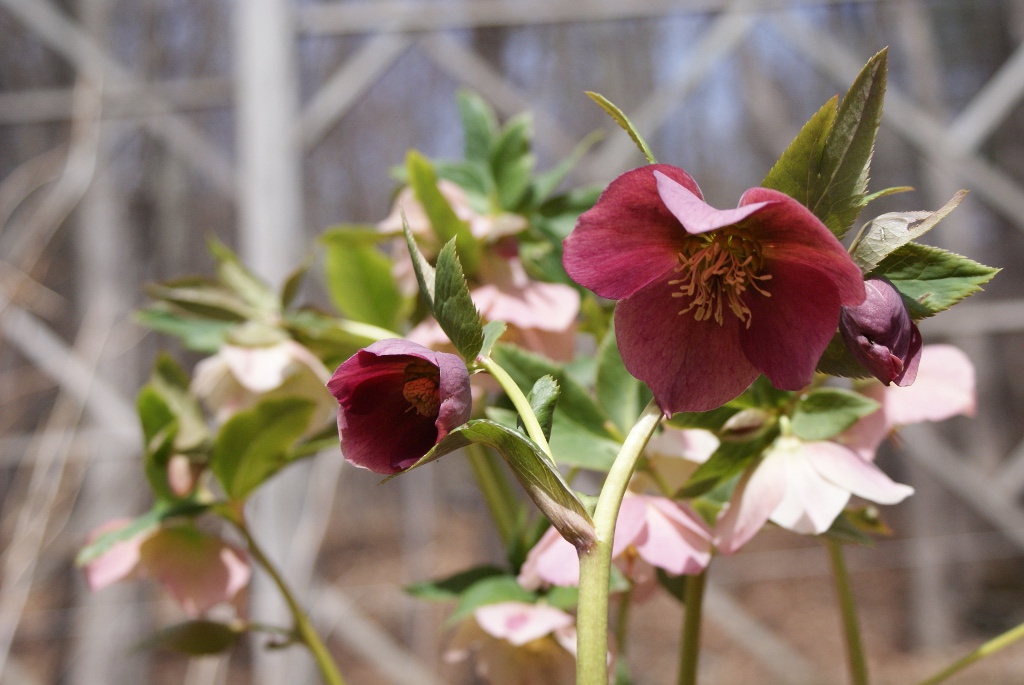 Hellebore (aka "Lenten Rose")
If you're looking for genuinely occult plants, you'd do better to look at the most reliable of spring flowers, the hellebore. Its name comes from the Greek elein, meaning "to injure" and bora, meaning "food" alluding to the plant's poisonous nature, and there is speculation that Alexander the Great was killed by hellebore poisoning. And, during the Siege of Kirrha in 585BC the Greeks poisoned the city's water supply with hellebore, deploying diarrhea as a Weapon of Mass Destruction.
On a gentler note, the plant's other, older, name, Melampodium, refers to the ancient physician Melampus who used Hellebore to cure the daughters of King Midas after they were touched by the madness of the maenads and began running naked through the streets screaming. And, in perhaps the gentlest legend of them all, the first hellebore sprouted from the snow at an angel's behest, when a little girl, awed by the magnificence of the Magi, shed a tear because she had no equal gift for the Christ child.