Snowshoes
20 February 2014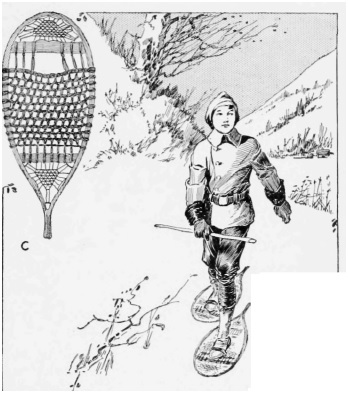 The Style Illustrated Here is Splendid for General Purposes and is a Favorite among Hunters and Woodsmen
Finally! An actual run that didn't involve me picking my way along icy sidewalks and soaking my feet in puddles I inevitably misjudge. New York City is back to normal - I'm even hoping I might be able to wear shoes I actually like to work. But as for Woodstock? One word.
Snowshoes.
It's pretty to think I could stride along with the aplomb Stillman Taylor suggests in The Boy Mechanic Vol 2: 1000 Things for Boys to Do. But it's pretty to think I could perform many of the splendid activities the book describes, including Toasting Bread over an Open Fire; Building Adjustable Stilts or a Four-Passenger Coasting Bobsled; Forcing Fruit Blossoms for Decorations; and Creating a Mind-Reading Effect with Cards.
Instead, my experiences with snowshoes always feel closer to the Battle on Snowshoes led by Major Robert Rogers at Ft. Ticonderoga. The victorious French believed that they had killed Rogers when they discovered his coat and commission papers, but legend has it that Rogers evaded capture by sliding down a 400-foot cliff and escaped across the frozen Lake George. That cliff is now known as Rogers' Rock, and is an extremely popular climbing spot. We were only faced with 30 inches of snow and no actual cliffs, but if you want to see some snowfall that feels like it could be 400 feet deep, check out this photo gallery by George Baird.