Snowdrops
14 January 2013
Well, our snowdrops are blooming, which means the gardening season has officially arrived.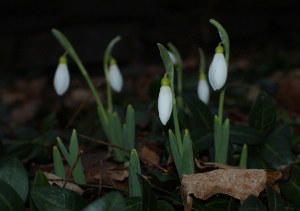 Of course, there are many superstitions that if the weather is fair in January, February and March will be harsh. Or, in other words, "When the cat lies in the sun in February, she will creep behind the stove in March."
However, despite the thundering predictions that "If it thunders in February, it will frost in April," and despite the preponderance of warnings that a snowdrop is an unlucky flower if it's brought indoors, one can't help but remember the sweet, hopeful legend underlying the snowdrop, which, according to Richard Folkard (1884), among others, an angel went out to console the expelled Eve, and, catching a falling snowflake "breathed on it, bade it take a form and bud and bloom," promising "This is an earnest, Eve, to thee, that sun and summer soon shall be."