Mythago Wood
17 April 2015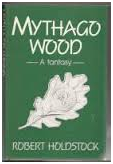 Cover of the weird edition
At the suggestion of one of those rare students who actually enjoys reading books (I knew I liked him the minute he showed up at my first class on Arthurian romance holding a copy of Neil Gaiman's Fragile Things), I've returned to Robert Holdstock's Mythago Wood. I mean that more or less literally, since I'm fairly certain I've read it before. Even more oddly - lending a suitable sense of circularity to the experience - I believe I must have read the same edition of the book before, because I remember a similar sense of confusion at the blurb, which reverses the names of Steven and Christian, the two brothers whose rivalry over a woman drives the plot. The blurb also says that the mysterious woman they both love is a huntress named Mythago, when she is in fact a mythago - a kind of Jungian race-memory of myth that manifests in this untouched piece of woodland that dates back to Mankind's most primal days. Published in 1984 by Arbor House as a Book Club Edition - although it does not specify which Book Club - this must qualify as the worst book blurb ever, and I went out of my way to buy this copy for my collection rather than the signed first editions that I've seen available.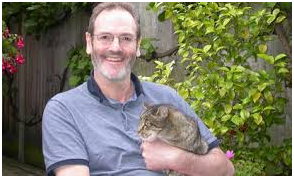 Figures he'd be a cat person
Robert Holdstock was a fantasy and science fiction writer who paid his dues, writing stories and novels under pseudonyms for over a decade before the novella Mythago Wood won the BSFA award and the World Fantasy Award for Best Novella in 1982. In 1984 he expanded the novella into a novel and then into the Ryhope Wood sequence, about which Neil Gaiman comments in "On the Edge of the Dark Woods,":
Mythago Wood is a fantasy novel written by a science fiction writer, and, perhaps more importantly, by a former scientist. The magic in this book is science, of a sort, capable of being understood and interpreted and, most importantly, used. It's magic, only because we do not know how it works, because it is imprecise, because it deals with belief and with minds and woods and the past and the future. But the author knows the rules and the world, and is building something that feels right - historically, mythically and emotionally.
Blodeuwedd
The Ryhope Wood series continued until the appearance of Avilion in 2009. Between 2001 and 2007 Holdstock also produced the clearly Arthurian Merlin Codex, consisting of Celtika, The Iron Grail and The Broken Kings. So to answer my student's question, how Arthurian is Mythago Wood? Well, I'm still working on that. The name of the giant Peredur is obviously Arthurian, but little else about him is. And while Holdstock's Guiwenneth is far more appealing than the average Guinevere, she seems to be more closely related to Blodeuwedd, the maiden made out of broom, meadowsweet, and oak by the magicians Math and Gwydion in the Welsh Mabinogi, than Arthur's queen.
But leave out the Arthurian. Is Mythago Wood a great novel? The jury's out in my mind - and my student concurred as we crowded together on the Bx12 toward Fordham one afternoon. As best I can guess, Part I of the novel was the original novella, which ends with Steven's encounter with the Urscumug, the primal mythago engendered by his father. If that is the case, as far as I'm concerned the taut and mysterious novella only suffers from its expansion into a novel. Steven's compelling attraction to Guiwenneth does not need to be explained, let alone played out in a repetitive idyll that extends across several chapters. The character of Harry Keeton, the flyer, comes out of nowhere to provide a jarring external view of the wood's power - then disappears abruptly, only to manifest out of nowhere again. And is Steven really fated to kill Christian? Why? Because he's a mythago now? Then why doesn't he do it? Instead of being apocalyptic, the brothers' final showdown leaves their relationship more obscure than before.

Part I is effective precisely because of its loose ends. If you use the terms Edgar Allan Poe established in "The Philosophy of Composition," it depends - as Poe argues short stories always should - upon effect, rather than plot. In the novel, the magic, which is so imprecise in the novella, becomes, as Gaiman would have it, more precise and scientific. So much so that scenes that were grey areas in the novella, such as the Urscumug's relationship with Steven, feel like lacunae instead. In particular, the irresolution of the novel's ending feels more like handwaving and a set-up for a series.
Still, the book is eerie and unforgettable. I'll certainly read more. But I think I'll skip ahead to the Merlin Codex before returning to Mythago Wood - even if there's part of me that already knows that I've been there before.