Of Dragons, Serpents, St. Michael and St. George
08 October 2014
It seems like only yesterday that we were shivering as we uncovered the snowdrops that were sprouting in March, and now we're already at Michaelmas - the Feast of St. Michael and All Angels - which marks the traditional end of the farming and gardening season in England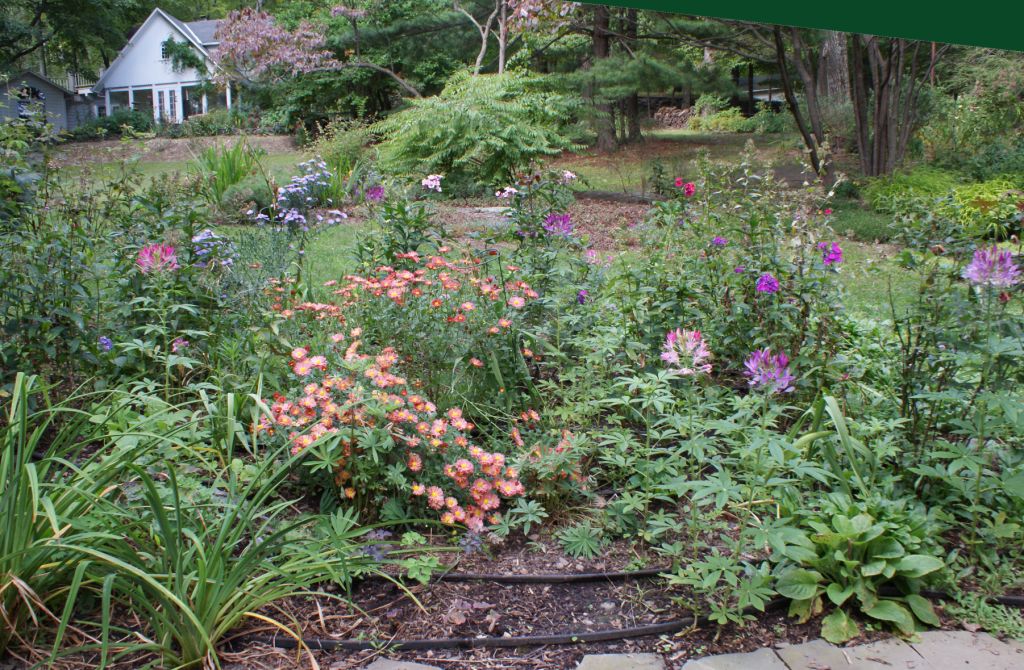 Our garden in mid September
Celebrated on Sept. 29, Michaelmas was one of the Quarter Days on Tudor England's calendar. (The other quarter days were March 25, the Feast of the Annunciation or "Lady Day;" June 24th, the Feast of St. John, and Christmas.) In religious tradition, Michaelmas commemorates the day when Michael, as leader of God's army, cast Lucifer out of heaven.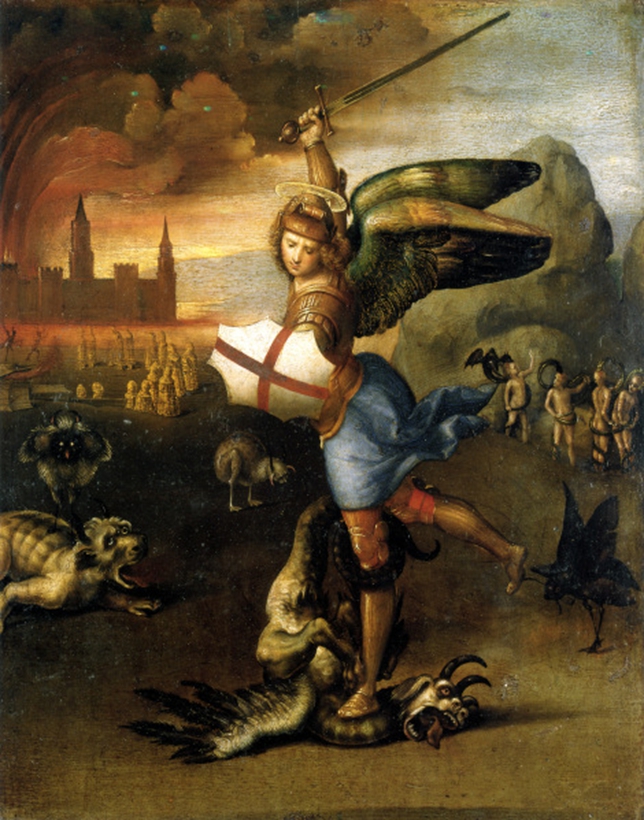 St. Michael slaying the dragon
Sadly for Satan, he seemed to have taken a brief, but painful bounce off earth on his way down to the abyss, via a thicket of blackberry bushes. Angry at being scratched, Satan cursed them, which is why blackberries aren't supposed to be good to eat after Michaelmas.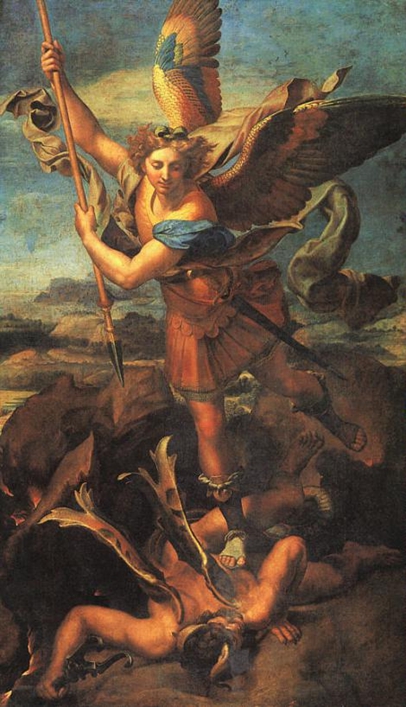 St. Michael slaying the dragon (again)
However, none of this really explains to my satisfaction why an archangel is called a saint. The conventional explanation is that anyone in heaven is a saint, but we don't say St. Gabriel or St. Jesus now do we? Perhaps Michael's saintly appellation arises from his close association with humans. In Jewish lore, he was the first angel to bow to Adam and served as Adam's protector when he and Eve were exiled to earth.
Michael also taught Adam how to farm, which may explain Michaelmas' close association with the harvest season. In England, Michaelmas is traditionally the day when rents are paid, when land leases expire and are renewed, and elections are held for officials such as the reeve (an office that was the precursor to a sheriff, whose title derives from the compound shire-reeve).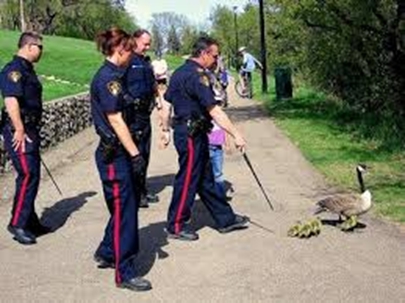 Goose is traditional fare at Michaelmas
Geese are a central tradition in paying Michaelmas rents. According to the rhyme,
And when the tenants come to pay their quarter's rent,
They bring some fowl at Midsummer, a dish of fish in Lent,
At Christmas a capon, at Michaelmas a goose,
And somewhat else at New Year's tide, for fear their lease fly loose.

According to legend, the association of geese with Michaelmas dates back to Queen Elizabeth I, who was eating a meal of roast goose on Michaelmas when she heard about the destruction of the Spanish Armada in 1588, and proclaimed, "Henceforth shall a goose commemorate this great victory!" According to another tradition, the goose's breastbone can be used as a weather charm, by holding it up to the light of a window. The more transparent the bone, the milder the winter.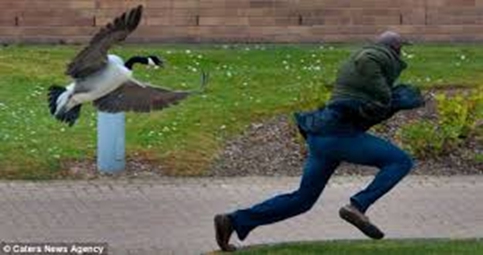 Some geese have their own ideas about that
A bad day for geese, then, although all thing considered, it seems those birds are pretty good at taking care of themselves.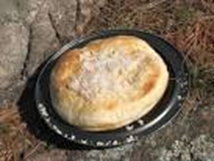 Michaelmas Bannock
Another traditional Michaelmas food is a cake called St. Michael's bannock.
St. Michael slaying the dragon (again)
Looks suspiciously like the shield St. Michael is wielding here, doesn't it?
Here are some other Michaelmas traditions, from Shirley Twofeathers at
Gypsy Magic
. I must say, however, that as a parson's daughter, I take umbrage at numbers 4 and 5.
If you eat goose on Michaelmas Day, you will not be short of money all year round.
A Michaelmas rot comes ne'er in the pot.
If St Michael brings many acorns, Christmas will cover the fields with snow.
Michaelmas chickens and parsons' daughters never come to good.
Three things that never come to any good: Christmas pigs, Michaelmas fowls, and parsons' daughters.
So many days the moon is old on St Michael's day, so many floods after.
Harvest comes as long before Michaelmas as dog roses bloom before Midsummer.
St Michael's rain does not stay long in the sky.
Michaelmas is, of course, also associated with the Michaelmas daisy, brought to England from America by John Tradescant the Younger in the 17th century. Although the Michaelmas daisy proper is a new world plant, it is a member of the ancient Aster family... well, actually, as of 1994, no, they're not. They're still members of the Asteraceae family, but there's only one native American aster species that's left in the genus Aster, Aster alpines. Now, species that used to be know by names like Aster novae-angliae, or "star of New England," now bear such clunkers of names as Symphyotrichum novae-angliae, or "fused hairs of New England."
I'll stick with the star, thank you very much, and its association with the goddess Astraea, who wept when she saw no stars on Earth (or when she saw the violence among humans on earth). In either case, her tears fell as stardust and sprang up as Michaelmas daisies.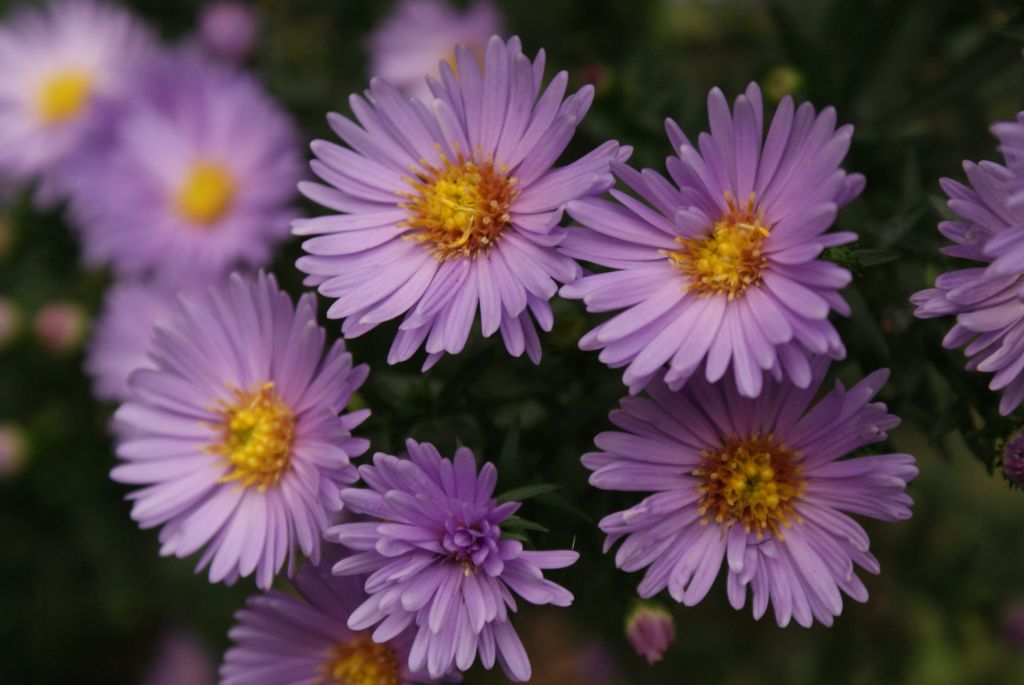 Michaelmas Daisies, aka Asters
According to Scott Cunningham's Encyclopedia of Magical Herbs, the Michaelmas daisy is also associated with the goddess Venus and has been used in love divinations both in the European tradition and among the Iroquois. In ancient Greece and Rome, the flower was sacred to the gods and so wreaths of asters were placed on their altars. An ointment made of aster could cure a mad dog's bite. An aster amulet was said to relieve sciatica, and Virgil claimed that the flavor of honey would be improved if asters were boiled in wine and placed by one's beehive.
In the New World, the Chippewa smoked the dried roots of asters in order to attract game when they were hunting. The Iroquois also used the plant for hunting magic. The Meskwaki and Potowatami made a smudge with it to awaken unconscious people.
Pliny the Elder claimed that a tea of aster would cure snake bite. And aster leaves were burned to drive away serpents in ancient Greece. So where were the asters on Michaelmas, when the frantic cries of a captured frog alerted us to the snake slithering off our patio, its prey clamped firmly in its jaws?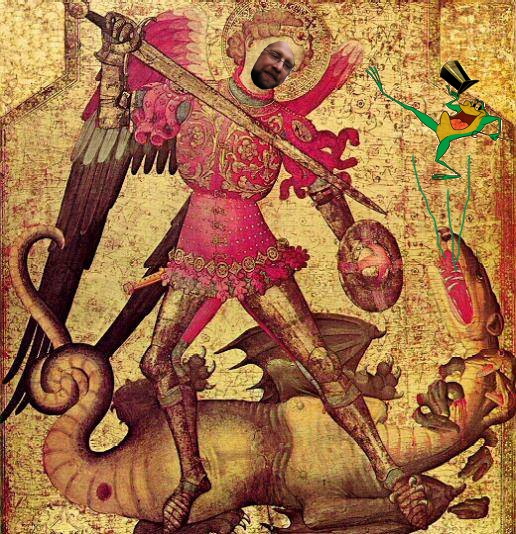 George helping out a frog being eaten by a snake
Now, George is no Michael, and he doesn't have wings, but he is named for a saint - an actual saint, mind you - who was no slouch at dragon-fighting himself. Remember Cappodocia? The King of Egypt's virgin daughter being sacrificed to the dragon? If not, tune back into this website on April 23.
One poke with a stick. One extremely annoyed snake. And a fat, pink frog springing to freedom - and straight into George's groin. While George was doubled over, bemoaning the fact that no good deed goes unpunished, the frog vanished without so much as a thank you. Now, all we have to figure out is how to discover whether it was really a virgin.