Emily Dickinson and your Body's Exterior Immune System: One Degree of Separation?
19 May 2014
The next stop on my tour of daft Arthurians was supposed to be J. Dunbar Hylton's Arteloise: A Romance of King Arthur and Knights of the Round Table. How can you turn down a book whose review in The Literary World includes the sentence "We could not, in the comparatively brief space at our disposal, undertake a bare enumeration of the times that his champion hero, Sir Beau de Main, carves a ferocious demon and deluges the surrounding landscape with the creature's exuberant life blood." And soon, I will return to Mr. Hylton's poem, affectionately dedicated to his son. But somewhere in Hylton's "strange story of the past...wild as ever Fiction drew," I found myself sidetracked by Thomas Wentworth Higginson's Tales of the Enchanted Islands of the Atlantic (1898).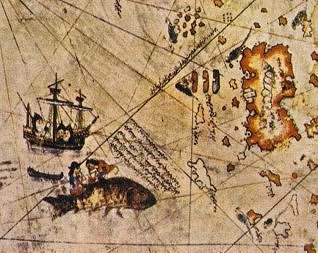 Tales of the Enchanted Islands of the Atlantic
Only a few of Higginson's Tales can be said to be Arthurian, and in many of them, the connection is tenuous at best. "The Castle of the Active Door," somewhat clumsily inserts Peredur (Perceval) into the third branch of the Mabinogi. "Sir Lancelot of the Lake," and "King Arthur at Avalon" also add little to the tradition.
Two of Higginson's tales, however, provide much more insight into the complicated blend of individualism and conformity that flavors both his life and work. An ardent abolitionist, Unitarian minister, and the captain of the first all-black regiment to fight in the Civil War, Higginson (1823-1911) was the epitome of the engaged writer. However, he is also infamous for urging Emily Dickinson to smooth out her idiosyncratic poetic style. And in his 2001 review article for The New Republic, Caleb Crain reads Higginson's 1886 short story "The Monarch of Dreams" - which chronicles the psychic breakdown of its protagonist, as he descends deeper and deeper into a fantasy world populated only by replicas of himself - as a savage indictment of writer retreating to his own imagination, instead of being willing to engage with the society around him.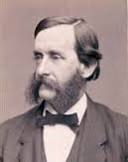 Thomas Wentworth Higginson
Higginson's Tale of Merlin and Nimue, however, has precisely the opposite ending. Instead of being an old man trapped by a cunning witch, Higginson's Merlin disguises himself as a young squire who courts - and arguably even seduces - Nimue. And instead imprisoning Merlin to obtain his secrets, Nimue builds him a magic castle on one of those Enchanted Islands, where they still spend their time together, lost in their own illusions.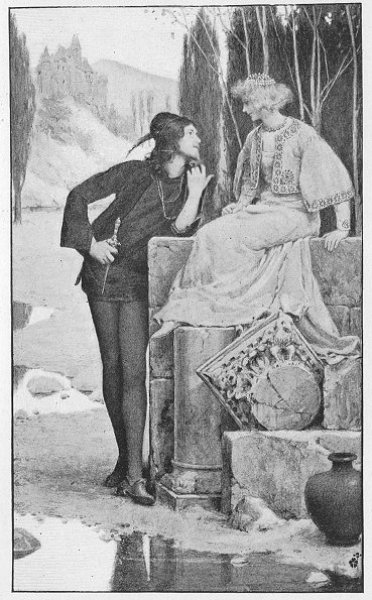 Merlin and Nimue
Higginson's story of Arthur's near-fatal battle with the Half-Man, Hanner-Dyn, sheds an even more interesting light on the artist's struggle between self-absorption and engagement. The dwarf (or child, in Higginson's version) gains strength every time Arthur returns to his isle to fight him, until the nearly vanquished Arthur realizes that Hanner-Dyn is habit, which is strong enough to conquer even a monarch.
Not only does this story provide another example of the hero retreating into himself - for upon recognizing his opponent, Arthur vows never to return to the island - it also provides an interesting insight into the growth of folklore. For many storytellers have picked up the story of Hanner-Dyn, citing him as an ancient creature out of British folklore. Hanner-Dyn has even found his way into Body Eloquence: The Power of Myth and Story to Awaken the Body's Energies, as "traditional English tale" that illustrates the exterior immune system in action.
Yes. I'm kind of puzzled by that one, too. But that's not really the point. The point is that for all the talk of "ancient creatures" and "traditional tales," as best as I have found, there is only one source for this story other than Higginson himself: Iolo Morganwg's "Taliesin Fragments." In 1911, Higginson would have considered Morganwg an authority, but currently Morganwg is appreciated for the inventiveness, rather than the accuracy, of his reconstructed texts.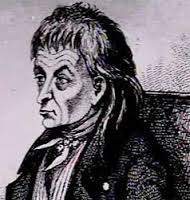 Iolo Morganwg
What's more, even if we were to take Morganwg's work at face value, the story he tells is very different from Higginson's. Morganwg's Hanner-Dyn is much closer to a Golem, being literally half-formed. And King Arthur refuses to wrestle with him, saying it would diminish him. Instead, it is Trystan who wrestles the half-man, and vanquishes him, thus winning the half-man's head. But when the Half-Man offers to ransom his life, Trystan replies "I desire no one's head, but to lame the foot of him that is more swift than just."
I'm not entirely sure what that one means either. But I feel hard pressed to connect it back to ancient personification of habit. If anything, it seems to be a watered-down version of the story of Tristan killing the dragon - which sets in motion what is arguably the greatest epic of self-absorbed passion in world literature. Which suggests, at least to me, that the "ancient hobgoblin" that modern storytellers have resurrected is in fact much closer to Emerson's "hobgoblin of little minds" than any ancient British legend.