Orchids and W.H.Gibson
06 February 2014
I was drawn to William Hamilton Gibson's Our Native Orchids: A Series of Drawings from Nature of All the Species Found in the Northeastern United States (edited by Helena Dewey Leeming Jelliffe, and posthumously published in 1905) from several very different directions. First was the inevitable enthusiasm that resulted when, last year, having sworn off trying to grow native orchids in my garden for good, I was rewarded with practically all my Cypripediums and even a stubborn Pogonia finally blooming.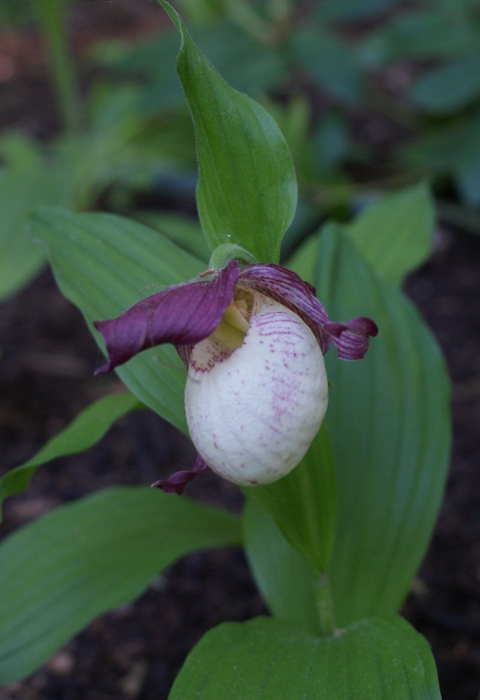 Cypripedium growing outdoors
Second was creating the character of Lord Jacob Risely, a cranky, if eminently eligible, nineteenth century orchid hunter for the novel I've just begun, called Madoc's Bride. And then there was the little issue of the squirrel that found its way into our house, battering a blooming Cymbidium and trashing a perfectly lovely Oncidium that had finally sent up a spike after nearly three years...
Soon, however, I found myself hooked on such passages as:
Does every family have its degenerate members? In the social world degeneration seems to mean the ability to do without something that has grown to be a necessity to everybody else. To do without clothes, or cooked food, or manners, would imply some kind of degeneration, although the individual that had reverted to such aboriginal habits might be a very well-developed specimen of humanity. Possibly the orchids, if they could grasp their relation to each other, would class the Coralroots as the degenerates of their family, for the reason that they do without leaves. Certainly leaves seem to be essential to every well-regulated plant, as clothes to a human being; but in the woods that are glorified by the Cypripedium and Habenaria we come upon a leafless, greenless, uncanny plant that lives the life of a beggar, and yet is proud withal, for it has its spotted banner and its insect servitors, and it keeps up the family traditions in every way except that it has no chlorophyll.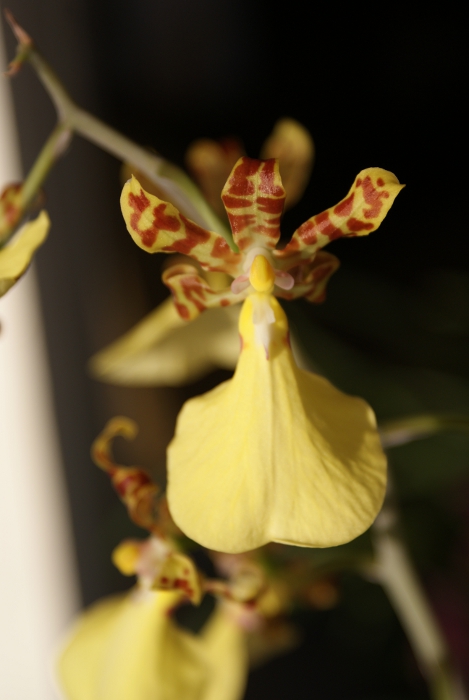 This was eaten by a squirrel
But on the other hand, if the orchids were able to discuss values, they might possibly place the Corallorhiza higher in the social scale, as the Hindoos would reverence a priest with his begging bowl, where we would see only the exponent of a parasitic system. For the orchids that grace the green houses, those snared like flaming birds from the tops of tropical trees, have all some mysterious power of drawing their nourishment from the air and moisture through the apparent medium of a little bark, or moss; so it may be the creed of these spirit flowers that they should be served rather than serve themselves, and that to delve in mud for their food is unworthy of their kind, and our thrifty Habenarias and Cypripediums that thrust ordinary roots in moist black soil may be thought as much unclassed as a Buddhist who should drive a trade for money.
And then there was Gibson's (not to mention Darwin's and Asa Gray's) apparently completely unselfconscious obsession with plant reproduction, as evidenced in passages such as the following:
Cymbidium NOT eaten by a squirrel
To prove the fact that the insects do visit, it is only necessary to count the seed capsules at the end of the summer. But the act, the presence of the winged desire, the actual entrance of the butterfly or moth into the fringed portal, the flying off with the pollen masses sticking by their discs to his eyes and bending forward by their own weight, and his entry to another where they will strike again the viscid stigma just under the column, and send the thrill of creation down the narrow twisted ovary to quicken the waiting ovules - this is a mystery with a key that needs only time and patience and watchful eyes.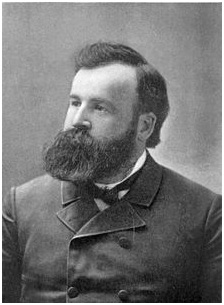 William Hamilton Gibson
William Hamilton Gibson was the product of a distinguished New England family that included the jurist Richard Dana (1699-1772), as well as Richard Henry Dana, Jr., author of Two Years Before the Mast.
A self-taught artist, and friend and stout defender of the embattled Henry Ward Beecher, Gibson made his reputation as an expert illustrator, wood-engraver, and lithographer. His work appeared everywhere from The American Agriculturist to St. Nicholas and Harper's Monthly, where he first established his reputation with his illustrations for Mrs. Helen S. Conant's article on fashion, entitled "Birds and Plumage."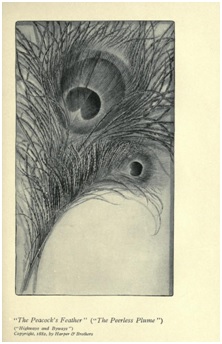 Peacock Feather by Gibson
His reputation escalated to the point where John Coleman Adams could begin his 1901 biography of Gibson, "Three men have done more than any others to inspire our generation with the love of nature. They are Henry D. Thoreau, John Burroughs, and William Hamilton Gibson." Adams saw Thoreau is "the Philosopher," Burroughs, "the poet and man of letters," and Gibson "the artist-naturalist," and a triumphant example of the "scientific use of the imagination" - as well as the "imaginative use of science." What this meant to Adams was that Gibson was one who "taught by his art the greatness of the little, the divinity of the familiar." In other words, Gibson was as able to extol the beauties of the Lady's Slipper orchid as those of a swamp or the many varieties of wildflowers he found growing as weeds in his Brooklyn back yard.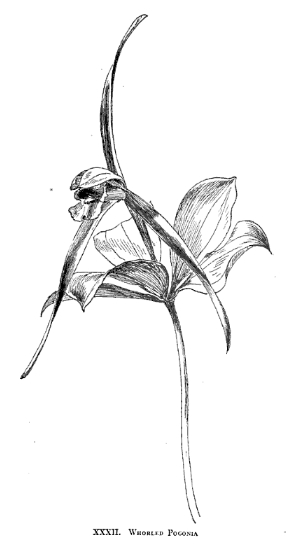 Whorled Pogonia by Gibson
He did this in his pictures as well as his words, illustrations so exact that Gibson was often accused of tracing his engravings from photographs. In fact, however, he never worked directly from nature, preferring instead to make sketches and then elaborate his engraving from them. In Adams' words, Gibson was like the impressionists in that he painted only what he saw. The irony was that Gibson saw so much more than the impressionists did.
This "seeing" often took on a visionary, if not absolutely supernatural, character - a near shamanic "acquaintance of all living things," that allowed Gibson to calmly pluck a little brown bird out of a tree, to illustrate a point he was making about its plumage to Dr. Lyman Abbott, and then returning it, quite literally unruffled, to its branch. "We are accustomed to think of those saints whose communion is close with God that they sit and meditate or kneel and pray," Wilson's pastor, Mr. Turner summed up this ability. "Perhaps we do not conceive of walking with God as one would walk with the owner of a great estate, and hear him tell what he has done or meant to do with this field or that." Shades of Downton Abbey to be sure. But a purely American, completely democratic Downton Abbey, whose gates magazine writers like Gibson threw open to any who might want to visit.