Early May
13 May 2013
What a difference a week makes. A few days of good temperatures and our spring garden exploded. Granted, it has little more duration than the spring ephemerals. But, Lord, it's good - arguably easy - fun while it lasts. Tulips, chiondoxia, muscari, aconite, hyacinthoides: They're all there. One of the tricks of having a woodland garden is giving in to planting drifts - and accepting the fact that this is the garden's moment. When the trees leaf in, there will be nothing left beyond ferns and ligularia. But right now, there's no harm in enjoying the bulbs' admittedly vulgar display.
Another way of accepting things in the spring is letting flowers frolic in the lawn - at least until you're ready to mow. The croci are long gone; the dandelions are at best vaguely tolerable. But the bluets (Houstonia caerulea), have spread happily, and we encourage them. In America, we call them Quaker Ladies - because the colors suggest the modest colors of most Quaker women. Despite their sober Quaker associations, however, they are one of the most abandoned and joyful harbingers of spring, and we mow around them, along with other ground covers such as dog's tooth violets (which seem to be attempting to take over our lawn each spring) and forget-me-nots.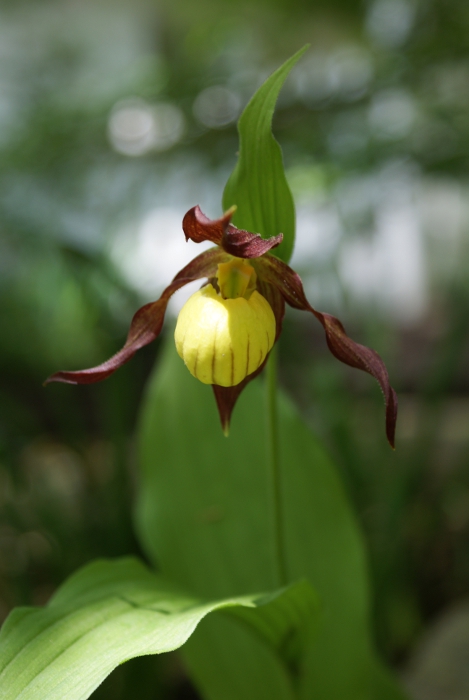 Cypripedium
And speaking of vulgar displays... Perhaps the polar opposite of the Quaker Ladies' modest charms is the cypripedium, named for the voluptuous goddess of love herself. And the wildflowers echo her personality. Elusive, secretive, finicky and difficult - high maintenance doesn't begin to cover either the plants or the goddess. And yet, when, after 7 years, I finally threw up my hands and said "No more native orchids. They're not worth the heartache," needless to say, we discovered, not one but two -- and maybe three - blooms. Nature as ironist? A soft spring? Who knows? Who cares? You don't even need to breathe in their scent to be intoxicated by these beauties.